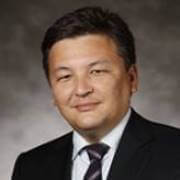 Yerlan Mukay began his career over 20 years ago in JV Kazakhstan-Samsung.   He  then acquired professional experience in various domestic and global companies. Yerlan was deputy finance manager in mega Kashagan phase II at Royal Dutch Shell HQ, commerce & business development director at Airbus Helicopters' Kazakh JV. He became VP finance and corporate affairs at NC Kazakhstan Engineering and NC Kazmunaygas.
Before going to business Yerlan worked at Kazakh finance ministry, dealing essentially with oil and gas (subsoil) finance expertise and taxation issues. He participated in governmental working groups for delivering systems and developing methodologies of subsoil users' revenue control.
Yerlan's extensive work experience and skills help comprehensively approach to strategic solutions in asset management, business models development and other management issues across industries and countries.
Yerlan holds PhD in applied mathematics from Kazakh State al-Farabi University and Executive MBA from Rotterdam School of Management, Erasmus University.